Wendy encourages beginning and experienced artists to engage in a process of inquiry and play as they develop their voice through printmaking. She is also available for private mentoring, portfolio development, demos and visiting artist workshops at all levels.
For more information or to register for a workshop, please call Wendy at 206.855.8833 or email her at wendyorville@gmail.com.
Upcoming Workshops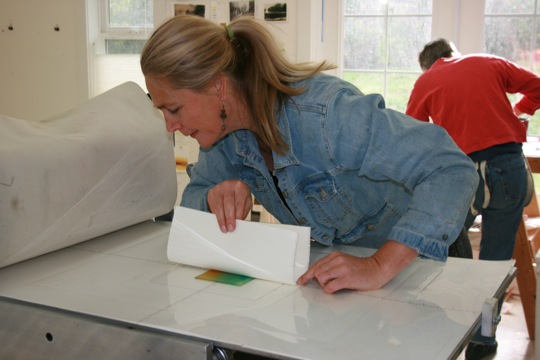 Making Monotypes
Fridays (on-going), 10:00 AM – 2:00 PM, $190 (3 sessions)
Learn how to create direct and expressive images with this  versatile form of printmaking. Apply ink on Plexiglas plates using brushes, rollers and rags, and then run the plate through an etching press to make one-of-a-kind images. Master the technical aspects of monotype as you discover and explore what fascinates you. Beginning and experienced artists welcome.
Weekend intensives and beginning workshops are also offered periodically throughout the year.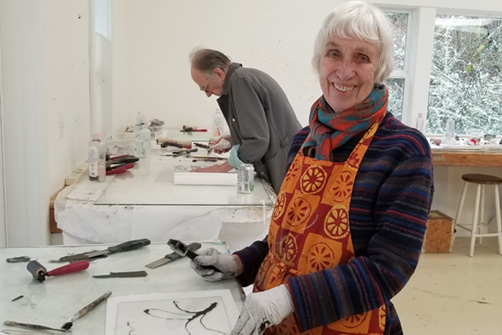 Printmaking Parties
$600 for 4 hours and up to six people, plus $15 materials fee per person.
Gather your friends for a fun, hands on studio experience making monotypes. You will learn a variety of printmaking techniques designed to kickstart your creativity. No art experience needed.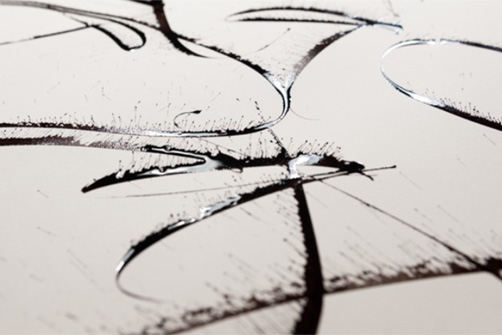 MONOTYPE & CALLIGRAPHY
A Four Day Workshop in Italy with Massimo Polello and Wendy Orville; October 13-16, 2019 (FULL)
Calligraphy and monotype unite mark, gesture, rhythm and atmosphere in exciting, innovative way. Our workshop will explore the intersection of monotype and calligraphy in Massimo's Turin Studio. The workshop is currently full but to learn more about future workshops email Wendy or Massimo. (PDF)