By Rick Romancito
The Taos News, July 20,1995 B4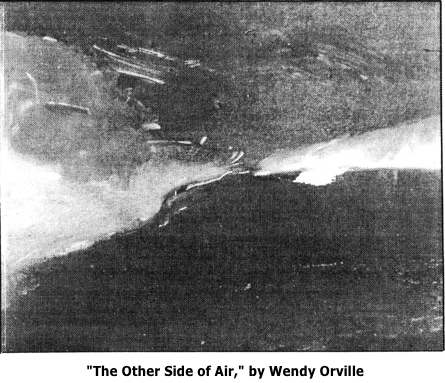 What do six Taos artists and one from Santa Fe have in common? More than you'd think.
Strength is in numbers, according to a group of Taos artists (and one from Santa Fe) who call themselves "Slingshot."
The newly formed alliance — consisting of Wendy Orville, Kristine Keheley, R. Angele Mason, Suzanne Wiggin, Randall LaGro, Ria Burnett and Michael Schroeder — are planning a debut exhibition that opens with a reception from 4-7 p.m. Saturday (July 22) in a space they've rented at 901 West San Mateo in Santa Fe.
Although the group is planning to burst onto the scene in another town, members said they also plan to give Taos audiences a chance to see what they've been up to in a show here sometime in the near future. The reason they chose to have it in Santa Fe, Keheley said, is because they wanted to capitalize on concurrent exhibits associated with Site Santa Fe and Art Santa Fe.
The name of the group came to Keheley because it seemed to capture "surprise, playful energy and it should come at you like a slingshot."
Mason said the group is made up of artists who are all "fairly young and with not a lot of exposure." Young artists in Taos have had a difficult time becoming known, especially when so many gallery owners like to play it safe and fall back on the old reliables. Banding together, she said, makes sense in that people are more likely to notice them than if they saw their work individually.
But more than that, she said, it is a chance to play off one another in a group situation, where each can "brainstorm" and contribute to individual and group ideas.
"It's a good support system," Keheley said. "We're hoping for reaction or interaction and to create a dialogue," like that generated around the great art groups of the past. "This is one response to show what young artists are doing who are passionate about their work."
The group plans to show paintings, monoprints and photography in the exhibit.
Schroeder, the only Santa Fe artist in the group, said, "Conveyed through the language of scream and whisper,' my art exists as reality, memory and what I see when I open my eyes."
Orville said, "My work is a balance between what I see and what I sense. It is about an essence of place."
And LaGro said, "Painting affords a language transcending words — from casual conversations to communications one can't explain."
Return to Wendy Orville Press/News