New Haven Register, Sunday, November 26, 1989 Page D3
By Maxine Olderman. a freelance writer and art critic for the Register, has a degree in art history from Connecticut College.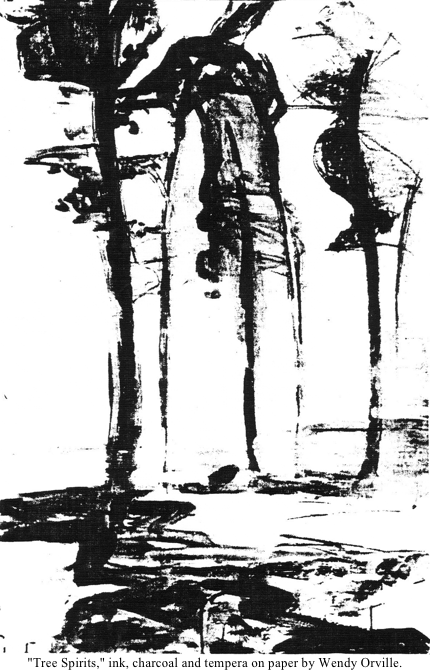 From the shores of Caumsett Long Island and the fjords of Eduard Munch's Norway comes the inspiration for Wendy Orville's paintings and drawings.
A collection of her works, now at the Small Space gallery, titled "Intimate Spaces: Landscapes" underscores her belief, contained in an artists' statement accompanying the exhibition. that "immense spaces exist in miniature and trees seem to have spirits of their own."
The Long Island shore provided the scenic inspiration for these landscapes painted on site, but the song of Norway comes by way of her Norwegian mother and frequent visits there. She has found inspiration from an Icelandic painter named Louisa Mattisdottir, but finds herself drawn to Pierre Bonnard and Henri Matisse as well.
Orville's work does often re-mind the viewer of Matisse's playful, dancing forms and although she concentrates on exterior landscapes in this exhibit, there is the jewel-like intimacy of Bonnard's interiors.
Other allusions come to mind, particularly when she is working in watercolor, of Chinese brush work and Japanese scrolls. When she translates her visions in oil her work evokes the spirit of Raoul Duty's luxuriant paintings of the Cote D'Azur. There is also an un-mistakably French plein-air feeling in her small work "Mist" that captures a palpable moistness in the atmosphere and a vivid sense of impressionistic light.
A mythology of the natural world seems to envelop these paintings and drawings as if the objects Orville has chosen to depict are emblematic of the secrets beneath the surface.
Orville has a clear mission when interpreting these outdoor scenes.
"I want people to recognize where these places are and see that it is clearly a tree and clearly a landscape," I she said in a recent interview. "But all the while I want them to have an emotional connection. I try to still things down to their basic few shapes and colors that convey what I was looking for.
I work to get rid of extra detail."
No work illustrates this principle of reducing a landscape to its most elemental features than "Tree Spirits I" a haunting talisman of design and color. The passing of a red sailboat becomes a well-placed dot of red on the horizon: a pool of cerulean blue defines the water. Tropical grass and exotic tree forms impart a sense of magic — as if wood nymphs might dart between the trees at any moment.
"Pond," another oil on paper is a simpler, smaller rendering of rough paint strokes that give it a full, rich texture.
"Single Tree" reduces the subject matter to a solitary object. A lone tree is enmeshed in a hill built of blue, green and lavender. A blue sky framed in pink frames the picture. As in many of Orville's smaller pieces, this concentration on a single tree allows her to explore its particular depth and de-tail. When working on a larger can-vas, some of this richness is often lost.
A trio of paintings. "Pond and Sea." "Path" and "Two Clouds" have amorphous, muddy tendencies. "Path" is easily the most successful of the three. . There is much to see that is satisfying in this interpretation of a path, sky, trees and grass where detail is conveyed with a minimum of excess brushstrokes.
"How I feel when I come to look at a particular vista will determine how it looks to me," she said. "I want to be very direct but I find that the place itself can inspire certain moods that go beyond the obvious."
"Tree Spirits III" is just such a mood piece. A mirror image in watercolor of an oil that depicts the same scene, this is a lovely blend of color, feeling and design. It has the soft look of a pastel and paint drips down the canvas like colored rain. Flora and fauna have a distinctly Japanese texture in this especially poetic painting.
As an art teacher at The Betsy Ross Arts Magnet School in New Haven,. Orville has the opportunity to experience children using their natural freedom of expression when interpreting nature. Never troubled by painting the sky green, or the water red, Orville has discovered that this spiritual openness has affected her work.
"Children are so nonacademic and so spontaneous with color," she said. "They believe in the magic of their work. They don't distinguish between what's real and not real. For them, art is about anything you want it to be."
For Orville, a child's eye view of the natural world has produced a very mature body of work that echoes Pablo Picasso's theory that it takes a very long time to become young.
Return to Wendy Orville Press/News